Announcements & Upcoming Events
What You Can Do to Pass Measure T
Community Forum

Paul Gallegos, Humboldt County District Attorney (6 mins)

Kaitlin-Sopoci-Belknap, Campaign Co-Manager for Measure T (19 mins)

John Bonifaz, Attorney and Founder of the National Voting Rights Institute (17 mins)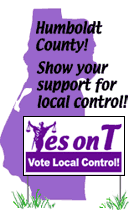 Television Ads

Kate Christensen, owner of The Garden Gate in Arcata, supports Measure T! (30 secs)

Ray Raphael, Humboldt County Historian, supports Measure T! (30 secs)
News Articles
FOR IMMEDIATE RELEASE: September 16, 2006
CONTACT: Kaitlin Sopoci-Belknap, Democracy Unlimited (707) 362-0626

Judge Refuses to Suspend Measure T for November Elections
SAN FRANCISCO, CA – The request for a temporary restraining order against Humboldt County was denied in a hearing in U.S. District Court yesterday. Judge Alsup, of the Northern District of California, refused to suspend Measure T and instead clarified the limitations on the participation of Mercer-Fraser Corporation and O & M Industries in upcoming election activities.
The two companies, represented by Sacramento's Pacific Legal Foundation, sought the temporary restraining order in an effort to circumvent the Humboldt County Ordinance to Protect Fair Elections and Local Democracy, or Measure T, in the upcoming November election. Measure T, which was passed by citizens' initiative in June 2006, forbids non-local corporations from making political contributions in Humboldt elections.
The legal challenge against Measure T is set to continue in a hearing on Monday, September 22, in which District Court Judge Susan Illston will hear the Pacific Legal Foundation's argument for a preliminary injunction preventing Measure T's enforcement.
"At its heart, Measure protects the constitutional rights of people, and our community's right to democratic self-governance," said Kaitlin Sopoci-Belknap, Director of Democracy Unlimited of Humboldt County, one of the local grassroots organizations who helped write the initial legislation for Measure T.
At this time, defense for the County is being handled by Randy Riddle, managing partner for the Public Law Group of San Francisco. Mr. Riddle is an election law expert, who manages the California Election Law website and also teaches on the subject at the University of San Francisco School of Law.
Constitutional law expert, John Bonifaz pledged his support during the initial campaign for Measure T and has since confirmed his willingness to assist in the case. As of this date, the County Board of Supervisors has yet to accept his help as Special Counsel.
"It would be a shame to turn down free assistance from someone who is known nationally for his election integrity work," said Sopoci-Belknap. "We're hopeful that the County Board of Supervisors will take up this national expert's offer to help free of charge."
Judge Alsup did not rule on Measure T's constitutionality. "By continuing to limit outside corporate participation in the current election, Judge Alsup has sided with the voters who saw a need to protect our elections," said Sopoci-Belknap. "We certainly hope that at the next hearing the Court will continue to uphold our community's right to democratically determine our own laws."
###
More information:
Humboldt County Leaders Endorse Measure T!
Democratic Party of Humboldt County
Green Party of Humboldt County
Central Labor Council of Humboldt and Del Norte Counties
American Federation of State, County and Municipal Employees (AFSCME) Local #1684
Building and Construction Trades of Humboldt and Del Norte Counties
Carpenters Union Local #751
Operating Engineers Union Local #3 AFL-CIO
Paul Gallegos, Humboldt County District Attorney
Peter LaVallee, Eureka Mayor
Chris Kerrigan, Eureka City Council
Dave Meserve, Arcata City Council
Harmony Groves, Arcata City Council
Paul Pitino, Arcata City Council
Bob Ornelas, Former Arcata Mayor
Connie Stewart, Former Arcata Mayor
Elizabeth Conner, Former Arcata City Council
Julie Fulkerson, Former Humboldt County Board of Supervisors
... and hundreds of other individuals and local businesses! Join us today!
View the full list of public endorsements!
Learn More!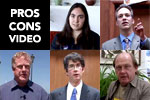 Learn more about Measure T in a Pros and Cons Video, produced by Eileen McGee (51 mins)
Radio Ads

Chris Kerrigan, Eureka City Counsel, and Kate Christensen, owner of The Garden Gate, support Measure T! (1 min)

Paul Gallegos, Humboldt County District Attorney, and Nezzie Wade, community member, support Measure T! (1 min)

Larry Glass, owner of The Works, and Dennis Rael, owner of Los Bagles, support Measure T! (1 min)