Announcements & Upcoming Events
What You Can Do to Pass Measure T
Community Forum

Paul Gallegos, Humboldt County District Attorney (6 mins)

Kaitlin-Sopoci-Belknap, Campaign Co-Manager for Measure T (19 mins)

John Bonifaz, Attorney and Founder of the National Voting Rights Institute (17 mins)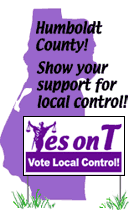 Television Ads

Kate Christensen, owner of The Garden Gate in Arcata, supports Measure T! (30 secs)

Ray Raphael, Humboldt County Historian, supports Measure T! (30 secs)
News Articles
Northern California Voters Reject Corporate Personhood
Sarah van Gelder, YES! Magazine
June 8, 2006



Lots of people talks about the problems of corporate power, but the people of a northern California county are doing something about it.

Voters in Humboldt County on Tuesday adopted "Measure T: the Ordinance to Protect Our Rights to Fair Elections and Local Democracy" by a vote of 55% to 45%. The measure prohibits corporations from outside the county from bankrolling political campaigns.

There are some good reasons the people of Humboldt County are fired up about outside corporate money "meddling" in local politics. In 1999, Wal-Mart put $235,000 behind an effort to site a highly unpopular big box store on the Eureka waterfront (and failed).

Then there was the time Pacific Lumber Company, owned by the Houston-based Maxxam Corporation, got ticked off at Paul Gallegos, then Humboldt's newly elected district attorney. Pacific Lumber, you may remember, is famous for its practice of mowing down ancient redwood forests, spurring many protests, the famous coalition of the Steelworkers and the tree-huggers, and Julia Butterfly Hill's long vigil in the redwood she named Luna. (See what she's up to now here.)

Maxxam spent over $250,000 to run a recall campaign against this D.A. - but lost by a nearly two-to-one margin. Why such a fuss about a district attorney? Evidently Gallegos had thought he ought to enforce the law -- including regulations affecting the corporation. (Gallegos, a supporter of Measure T, was re-elected on Tuesday also.)

What about the constitutional protection of free speech that corporations say give them the right to support, at any scale, the candidates and ballot measures of their choice, anywhere they choose?

Measure T supporters thought of that. The measure makes clear that Humboldt citizens do not believe corporations are legal people. (See Thom Hartmann's excellent piece on how corporations became "persons.") Measure T says only humans have constitutional rights.

This distinction is critical to our prospects on this planet. Publicly traded corporations are required by law to put profit to their shareholders first - before the well-being of employees, customers, their country, clean air or water, or, for that matter, the life-sustaining systems of the planet itself.

Whether it's cutting the last grove of ancient redwoods or driving down wages through outsourcing and union busting -- these activities take on a inexorable logic. As corporations grow to behemoth size and use their mammoth resources to further this single-minded aim, the destruction caused by this profit-at-all-costs ethic is becoming unbearable.

We humans, on the other hand, can weigh complex questions from the perspective of our pocketbooks, our families, our love of the outdoors, our empathy for our neighbors, our sense of right and wrong -- it is that complex balancing act that democracy demands of us.

Humboldt County voters have hit the nail on the head -- it is the responsibility of human beings to weigh the complex questions that are determining our prospects as a human species. Human beings who work for corporations can do that as individual citizens, but corporations -- which are constrained by their requirement to serve shareholders pocketbooks -- cannot.

Here and here are the websites of the Measure T organizers. Also, see John Nichols article from The Nation, "Citizens 1, Corporations 0." And see Liberty Tree's work on taking local democracy to a national level.

Sarah van Gelder is Executive Editor of YES! magazine.


Humboldt County Leaders Endorse Measure T!
Democratic Party of Humboldt County
Green Party of Humboldt County
Central Labor Council of Humboldt and Del Norte Counties
American Federation of State, County and Municipal Employees (AFSCME) Local #1684
Building and Construction Trades of Humboldt and Del Norte Counties
Carpenters Union Local #751
Operating Engineers Union Local #3 AFL-CIO
Paul Gallegos, Humboldt County District Attorney
Peter LaVallee, Eureka Mayor
Chris Kerrigan, Eureka City Council
Dave Meserve, Arcata City Council
Harmony Groves, Arcata City Council
Paul Pitino, Arcata City Council
Bob Ornelas, Former Arcata Mayor
Connie Stewart, Former Arcata Mayor
Elizabeth Conner, Former Arcata City Council
Julie Fulkerson, Former Humboldt County Board of Supervisors
... and hundreds of other individuals and local businesses! Join us today!
View the full list of public endorsements!
Learn More!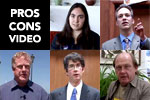 Learn more about Measure T in a Pros and Cons Video, produced by Eileen McGee (51 mins)
Radio Ads

Chris Kerrigan, Eureka City Counsel, and Kate Christensen, owner of The Garden Gate, support Measure T! (1 min)

Paul Gallegos, Humboldt County District Attorney, and Nezzie Wade, community member, support Measure T! (1 min)

Larry Glass, owner of The Works, and Dennis Rael, owner of Los Bagles, support Measure T! (1 min)