News Articles
Beyond the battles, winning back our electoral process
Arcata Eye opinion article
November 15, 2005
I attended elementary school in Arcata, and graduated from high school in Eureka. I went away to college and came home to the community and the place that I love. I am proud to be a lifelong part of this community which so overwhelmingly rejected Arnold's corporate-funded ballot initiatives.
Let's talk about that "special" election. Vast numbers of folks mobilized. We block-walked, phone-banked, and rallied in opposition to big money funders. And we actually got the election results for which we worked. That is something to be proud of, no doubt.
But ask yourself this question: even though the state wide ballot initiatives were defeated, at the end of the day, do you really feel that we have affirmatively won something, that we have made progress?
I will tell you truly, deep down in my gut, I don't. I celebrate the hard work that went into the fight, and I was proud to be part of it. But I come up feeling a little empty at the end.
Why should we always have to fight so hard to simply end up where we started? No wonder so many folks are apathetic or cynical about elections. Even those who put their shoulders to the wheel in elections often end up depressed or burned out.
Personally, I'm tired of always being on the defensive. I'm tired of always telling people why they should vote "NO" or against someone. I'm tired of not having something to vote for and to feel good about.
A little over a year ago, this same frustration, and the desire to be proactive, led me to begin conversations with over 35 other community leaders to talk about what we could do.
We talked about the WalMart struggle in Eureka back in 1999, when the Arkansas-based corporation poured over $235,000 into an effort to try to rewrite Eureka's zoning laws in their favor. Of course, we also talked about when Texas-based Maxxam corporation spent over a quarter million dollars, funding folks at the tune of $8 a signature, in an effort to recall District Attorney Paul Gallegos after only three months in office.
We quickly realized that out-of-county corporate political contributions were at the root of these problems. The WalMart initiative and the DA recall are fights that never would have made it to the voting booth without the corporate funding that put them there.
We came to the conclusion that these out-of-county corporate political contributions were directly undermining our democratic processes and causing us to lose confidence in the integrity of our own government. Big outside corporate money was corrupting our election process, and we had to do something about it. We knew that we had a right to fair elections, and a duty to preserve and protect our democracy against corruption. In essence, we didn't want to keep fighting the same battles, year after year.
So we formed the Humboldt Coalition for Community Rights. We researched and debated and discussed. Ultimately we realized that if we were going to protect our community, we needed to prevent these out-of-county corporations from attempting to buy elections.
So we drafted a proposed law that would make it illegal for non-local corporations to make political contributions in Humboldt County elections. It really is that simple and straightforward.
And we pledged to get the Humboldt County Ordinance to Protect Our Right to Fair Elections and Local Democracy on the ballot using only local volunteers. After all, what better way to prove we have broad community support?
I am proud that in only two months we have collected over 3,700 signatures!
Of course this initiative is NOT the end all be all solution to what's ailing our local democracy. It is simply a step, a call to be brave and the opportunity to take back what even the Supreme Court has said is our right - to preserve and protect our democracy against corruption.
So if you want to help protect your right to fair elections and local democracy, I urge you to join us. Sign the yellow petition to get this important law on the ballot next June. Better still, call us at (707) 444-0407 and help gather signatures.
Let's send a message loud and clear - Humboldt County elections are not for sale!
Yvonne Doble is a member and spokesperson for the Humboldt Coalition for Community Rights. You can read the full text of the ballot initiative at votelocalcontrol.org.
Write a letter to the editor in response to this article!
Humboldt County Leaders Endorse Measure T!
Democratic Party of Humboldt County
Green Party of Humboldt County
Central Labor Council of Humboldt and Del Norte Counties
American Federation of State, County and Municipal Employees (AFSCME) Local #1684
Building and Construction Trades of Humboldt and Del Norte Counties
Carpenters Union Local #751
Operating Engineers Union Local #3 AFL-CIO
Paul Gallegos, Humboldt County District Attorney
Peter LaVallee, Eureka Mayor
Chris Kerrigan, Eureka City Council
Dave Meserve, Arcata City Council
Harmony Groves, Arcata City Council
Paul Pitino, Arcata City Council
Bob Ornelas, Former Arcata Mayor
Connie Stewart, Former Arcata Mayor
Elizabeth Conner, Former Arcata City Council
Julie Fulkerson, Former Humboldt County Board of Supervisors
... and hundreds of other individuals and local businesses! Join us today!
View the full list of public endorsements!
Learn More!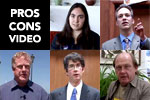 Learn more about Measure T in a Pros and Cons Video, produced by Eileen McGee (51 mins)
Radio Ads

Chris Kerrigan, Eureka City Counsel, and Kate Christensen, owner of The Garden Gate, support Measure T! (1 min)

Paul Gallegos, Humboldt County District Attorney, and Nezzie Wade, community member, support Measure T! (1 min)

Larry Glass, owner of The Works, and Dennis Rael, owner of Los Bagles, support Measure T! (1 min)