News Stories
Destruction of Democracy In the County
Stephen Lewis, Eureka Reporter Guest Editorial
February 28, 2006

Anyone remember the Cold War era? Communists, with their fanatical militant socialist ideology, were bound and determined to bring the capitalist world to its knees. They mounted a huge, long-lasting campaign to do this but finally ended up on the trash heap of history. Their own citizenry rebelled against political tyranny and gross incompetence of militant socialists at establishing sustainable socialist economies.
It took over 70 years of being under the thumb of elitist oligarchies of true believers until the people themselves cried "enough!" and kicked the rascals out. For those who can see the handwriting on the wall, I am sounding an alarm bell for freedom and giving warning not to let the old Cold War ideology and history repeat itself here in Humboldt County.
Why sound an alarm? Well, for starters, I am seeing increasing sign that our Progressives are adopting a similar fanatical mindset that powered the old leftist militants. It's "our way or the highway" intolerance that doesn't respect democracy at all if democratic principles gets in the way of the leftist political agenda which is the ever-present compulsion to destroy the capitalist system wherever they can.
Right now, progressives are attacking the corporate capitalist system in Humboldt County by taking away democratic representation from community members through an initiative that is a blatantly illegal attempt to rewrite the U.S. Constitution. Our Constitution guarantees freedom of speech for all U.S. citizens. Under the cover of "democracy" progressives are pushing Humboldt County citizens into adopting anti-democratic legislation, their Humboldt County Ordinance to Protect Our Right to Fair Elections and Local Democracy initiative, which claims to protect democracy in Humboldt County.
In reality, Progressives have given "democracy" their own narrow definition where democracy means freedom to speak and be represented if you hold progressive views and criminal penalty for free speech if you happen to own or work for a corporate capitalist enterprise. If Humboldt County adopts the progressives' anti-democratic democracy initiative, the county will be effectively disenfranchising thousands of Humboldt citizens.
With their anti-democratic democracy initiative, progressives want to be free to raise election campaign funds for their favorite campaigns and candidates while stopping corporations doing business in Humboldt County from doing the same. In effect, this means, progressives want to squelch any voice acting to protect the interests of Humboldt citizens working in local corporations for profit.
Progressive political organizations have many volunteer activists because they draw off the natural zeal of concerned youth in search of doing something good for their community and the world. Progressive leaders feed these youth and the community the leftist line that simplifies all social discontents as well as all environmental problems as problems to be laid solely at the feet of corporate capitalists.
With a nearly daily anti-corporate propaganda of one sort or another running through our media and courts, progressive political organizers overwhelm their opposition. Working-class people employed in local corporations often complain that because they work they don't have the time to organize protests against the well-organized anti-corporate activists. For example, how do the remaining 600 PALCO employees stand up against dozens of well-coordinated environmental and political organizations all trying to shut PALCO down and take their jobs away?
Then we should consider this hidden aspect of progressives' war against corporate capitalism in the form of their increasing lawsuit threats against volume discount stores like Home Depot that hits our county's many economically disadvantaged residents especially hard who can't afford small store retail prices. Progressives representing a relatively tiny percentage of Humboldt County's working class are threatening the employment and ability to economically survive in Humboldt County of thousands of county residents.
These progressives may not like the corporate capitalist system but it is the system that has served the nation and most of the world for hundreds of years since those demanding a better system consistently fail to provide a viable replacement model. They're always too busy making social change into a political and economic war against their neighbors.
(Stephen Lewis is an artist and writer who describes himself as having an extensive history of social change and environmental activism. He is a Rio Dell resident.)
Write a letter to the editor in response to this article!
Humboldt County Leaders Endorse Measure T!
Democratic Party of Humboldt County
Green Party of Humboldt County
Central Labor Council of Humboldt and Del Norte Counties
American Federation of State, County and Municipal Employees (AFSCME) Local #1684
Building and Construction Trades of Humboldt and Del Norte Counties
Carpenters Union Local #751
Operating Engineers Union Local #3 AFL-CIO
Paul Gallegos, Humboldt County District Attorney
Peter LaVallee, Eureka Mayor
Chris Kerrigan, Eureka City Council
Dave Meserve, Arcata City Council
Harmony Groves, Arcata City Council
Paul Pitino, Arcata City Council
Bob Ornelas, Former Arcata Mayor
Connie Stewart, Former Arcata Mayor
Elizabeth Conner, Former Arcata City Council
Julie Fulkerson, Former Humboldt County Board of Supervisors
... and hundreds of other individuals and local businesses! Join us today!
View the full list of public endorsements!
Learn More!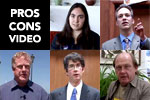 Learn more about Measure T in a Pros and Cons Video, produced by Eileen McGee (51 mins)
Radio Ads

Chris Kerrigan, Eureka City Counsel, and Kate Christensen, owner of The Garden Gate, support Measure T! (1 min)

Paul Gallegos, Humboldt County District Attorney, and Nezzie Wade, community member, support Measure T! (1 min)

Larry Glass, owner of The Works, and Dennis Rael, owner of Los Bagles, support Measure T! (1 min)