News Articles
No on Measure T Committee Launches Effort to Defeat June Ballot Measure
Rebecca Bender, Eureka Reporter
April 7, 2006

They're not opposed to campaign finance reform, by any means - quite the opposite.
But calling an ordinance that's now on track for the June ballot unfair and false reform, the No on Measure T Committee has declared its firm commitment to defeating the Ordinance to Protect Our Right to Fair Elections and Local Democracy.
"It's a slanted, one-sided power grab under the guise of campaign reform," NOT Chairperson Chris Crawford told about 25 people gathered over snacks and drinks in the meeting room of Roy's Club Thursday in Old Town.
In particular, he and other opponents said they find fault with what they say are Measure T's capricious definitions of local entities, which require a corporation to have every single employee living in Humboldt County to qualify as local, but allow nonprofit organizations to qualify as long as each board member resides in the area, and allow labor unions to qualify with just a single member in the area.
If those definitions were reversed, placing the higher standards of residence on nonprofits and labor unions, Crawford reasoned, the outcry of disenfranchisement would be deafening.
NOT proposes, as an alternative, an initiative that will limit campaign contributions from all sources to a flat $500 - and on Thursday, Crawford called on the proponents of Measure T, the Humboldt Coalition for Community Rights, to join in.
A collaborative effort on this issue, he added, could possibly pave the way for future cooperation between different groups.
HCCR Campaign Manager Kaitlin Sopoci-Belknap confirmed that the group would have no problem aligning itself behind a measure implementing fixed contribution limits.
"We absolutely would support the idea," she said. "It would be a good complement to our ordinance."
She said that restrictions on contribution amounts and on corporate involvement in politics would both be positive steps toward the same end.
Of the group's decision to set up the local standards the way it did, she added, current rates of campaign participation, a desire to close loopholes and the rural nature of Humboldt County determined the ordinance's final language.
"We've tried to create a law where everyone who has our best community interest at heart can participate," she said. "What we're about is local control."
Seizing on the word "control," which is repeated in the VoteLocalControl.org Web site name, Crawford said that Measure T supporters' decision to use it was a "refreshing bit of honesty," referring as it does to what he deemed a "naked power grab."
"There are over 300 businesses and organizations who support this campaign," Sopoci-Belknap retorted later. "We gathered more signatures than any initiative in county history, we have more supporters listed on our Web site . we had more people turn out for our press conference."
She deplored what she saw as an attempt to reduce or demean the movement.
In its campaign to defeat Measure T, NOT will not accept donations of more than $500 from any source. Crawford called on HCCR to do the same.
As phone calls from reporters brought Sopoci-Belknap the first hint of NOT's challenge - and of its solicitation of the group's support - she said she could not comment without talking to other organizers.
Crawford has his eye on the November ballot for a collaborative campaign donation initiative.
He emphasized that NOT has no interest in serving as a legal vehicle against Measure T, but is merely interested in implementing true campaign finance reform.
"We think there's way too much money, way too much rancor in the local political process now," he said. While personal attacks might be out of reach, he added, finances are not.
"I don't care who they are. . If you put a cap at $500, that's it," he said. "If we can shift the debate to true campaign reform . I think everybody wins."
For more information, visit www.MeasureTNO.org.
Another anti-Measure T statement was released on Thursday as well, in the form of a letter from Security National Holding Co. President and Chief Executive Officer Robin P. Arkley II to Humboldt County Counsel Tamara Falor, with copies to each of the Humboldt County supervisors.
Calling the ordinance ill-conceived and almost certainly unconstitutional, Arkley urges for a concerted effort to keep Measure T from becoming law, citing a number of court rulings to bolster his case.
"Should the ordinance pass, one can be sure that its legality will be challenged promptly," he wrote. "And when it is struck down, as it surely will be, the successful opponent may well have the right to recover its attorneys' fees from the county."
Both instances will carry a significant price tag for the county, he added.
"That is not how the county needs to spend its precious resources," Arkley said.
(Security National owns The Eureka Reporter.)
Write a letter to the editor in response to this article!
Humboldt County Leaders Endorse Measure T!
Democratic Party of Humboldt County
Green Party of Humboldt County
Central Labor Council of Humboldt and Del Norte Counties
American Federation of State, County and Municipal Employees (AFSCME) Local #1684
Building and Construction Trades of Humboldt and Del Norte Counties
Carpenters Union Local #751
Operating Engineers Union Local #3 AFL-CIO
Paul Gallegos, Humboldt County District Attorney
Peter LaVallee, Eureka Mayor
Chris Kerrigan, Eureka City Council
Dave Meserve, Arcata City Council
Harmony Groves, Arcata City Council
Paul Pitino, Arcata City Council
Bob Ornelas, Former Arcata Mayor
Connie Stewart, Former Arcata Mayor
Elizabeth Conner, Former Arcata City Council
Julie Fulkerson, Former Humboldt County Board of Supervisors
... and hundreds of other individuals and local businesses! Join us today!
View the full list of public endorsements!
Learn More!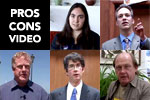 Learn more about Measure T in a Pros and Cons Video, produced by Eileen McGee (51 mins)
Radio Ads

Chris Kerrigan, Eureka City Counsel, and Kate Christensen, owner of The Garden Gate, support Measure T! (1 min)

Paul Gallegos, Humboldt County District Attorney, and Nezzie Wade, community member, support Measure T! (1 min)

Larry Glass, owner of The Works, and Dennis Rael, owner of Los Bagles, support Measure T! (1 min)