News Articles
Campaign Contribution Ordinance Challenged
John Osborn, The Eureka Reporter

A Humboldt County ordinance that restricts campaign contributions from outside the area will be tested in federal court.
Measure T, a controversial ballot measure approved by voters in 2006 by a 12 percent margin, is being challenged for its constitutionality by two area companies.
The challenge, brought about by the Sacramento-based Pacific Legal Foundation (PLF), which represents Mercer and Fraser, a Eureka-based construction company, and O & M Industries, an Arcata-based heat and air-conditioning manufacturer.
According to the complaint, the two companies are asking the court to overturn the ordinance on the grounds that it violates both their First and Fourteenth Amendment rights by not allowing them to engage in the political process.
PLF filed the complaint with the U.S. District Court for the Northern District of California, which means the case will be heard by federal judges in San Francisco.
When contacted, the county counsel's office was not aware of the lawsuit. An inquiry to Risk Management for the county about the lawsuit elicited no response before deadline.
The Measure T campaign, advanced by Democracy Unlimited, a self-described group devoted to dismantling corporate rule at the local level, aimed to restrict the ability of corporations not defined as local from contributing to political campaigns here.
Attacking the concept of corporate personhood that a corporation has the same rights as a person under the law — was the centerpiece of the Measure T campaign.
"Measure T, which imposes a total ban (on non-local corporate campaign contributions) is so beyond the pale," said PLF Attorney Damien Schiff, "that really the only remedy is overturning the law itself."
A corporation, according to the ordinance, is defined as local if its headquarters, employees and shareholders reside in the county, The county also has to be its primary place of business and not be a part of another corporation.
Mercer and Fraser, according to the complaint, have 98 percent of its workforce in Humboldt County, while O & M Industries has around 75 percent.
Since the entirety of both company's workforce doesn't live within the county, they have abstained from giving campaign contributions here "for fear of prosecution."
Any corporation caught contributing money to a campaign faces a fine equal to ten times the amount given.
The complaint also states that the law unfairly gives preference to unions, requiring that only one member reside in the county to be considered a "local labor organization."
"There is no compelling interest for Measure T's disparate treatment of incorporated labor organizations versus non-labor-oriented corporations," the complaint states, "the alleged corrupting influences of the corporate form are no more significant with the latter that with the former."
Schiff said that Humboldt County planned to do a civil enforcement action on companies that apparently violated the ordinance when contributing money to the Measure C campaign, a school bond measure narrowly approved by voters in McKinleyville this past June.
County counsel was unable to verify a civil enforcement action before deadline.
Schiff said that the timing of the lawsuit had nothing to do with Measure C, which showed willingness by the county for enforcing the ordinance, but with allowing the companies to participate politically in the upcoming November election.
Humboldt Coalition for Community Rights Spokesperson Kaitlin Sopoci-Belknap, who helped spearhead the Measure T campaign, deferred to a statement when contacted by phone.
In the statement, she said voters enacted the ordinance with a legitimate concern of corporate influence undermining elections and that a lawsuit is not surprising.
"Measure T ensures that owners of corporations will operate as individuals in the political process," she said, "just like every other citizen, rather than gaining undue influence through their corporations."
Schiff said the two companies are not just doing this for themselves, but also for "small Eureka-based corporations that would like to participate in elections."
(John C. Osborn can be reached at josborn@eurekareporter.com, or at 707-269-7445.)
Write a letter to the editor in response to this article!


Humboldt County Leaders Endorse Measure T!
Democratic Party of Humboldt County
Green Party of Humboldt County
Central Labor Council of Humboldt and Del Norte Counties
American Federation of State, County and Municipal Employees (AFSCME) Local #1684
Building and Construction Trades of Humboldt and Del Norte Counties
Carpenters Union Local #751
Operating Engineers Union Local #3 AFL-CIO
Paul Gallegos, Humboldt County District Attorney
Peter LaVallee, Eureka Mayor
Chris Kerrigan, Eureka City Council
Dave Meserve, Arcata City Council
Harmony Groves, Arcata City Council
Paul Pitino, Arcata City Council
Bob Ornelas, Former Arcata Mayor
Connie Stewart, Former Arcata Mayor
Elizabeth Conner, Former Arcata City Council
Julie Fulkerson, Former Humboldt County Board of Supervisors
... and hundreds of other individuals and local businesses! Join us today!
View the full list of public endorsements!
Learn More!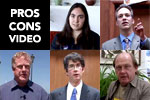 Learn more about Measure T in a Pros and Cons Video, produced by Eileen McGee (51 mins)
Radio Ads

Chris Kerrigan, Eureka City Counsel, and Kate Christensen, owner of The Garden Gate, support Measure T! (1 min)

Paul Gallegos, Humboldt County District Attorney, and Nezzie Wade, community member, support Measure T! (1 min)

Larry Glass, owner of The Works, and Dennis Rael, owner of Los Bagles, support Measure T! (1 min)