News Articles
Democrats Talk Election, Initiative
Nathan Rushton, Eureka Reporter
October 19, 2005

During a meeting Tuesday evening, the Humboldt County Democratic Central Committee approved support of an initiative that would seek to prohibit non-local corporations from making political contributions in local elections.
The initiative, which is being readied for the June election, was drafted and is being promoted by the Humboldt Coalition for Community Rights, a group of residents dedicated to protecting local control of the elections.
Under the language of the initiative, only local corporations - those whose owners and employees live and work in Humboldt County and are not owned by another corporation from outside the county - would be allowed to participate in local elections and contribute funds.
According to the Humboldt Coalition for Community Rights Web site, the ordinance is necessary to protect the integrity of the county's elections and local democracy.
A discussion during Tuesday's meeting among Democratic Committee members raised concerns that the initiative was not constitutional as written.
Democratic Committee member Allison Jackson, a former attorney with the District Attorney's Office, said she had read the initiative and had "deep concerns" about the constitutionality.
A Supreme Court case she was familiar with lead her to believe it was not constitutional, she said.
The HCDCC also reported that members were busy getting the word out to voters for November's special election.
Central Committee Chairman Patrick Riggs said many democrats are opposed to the election or dislike the governor and some feel that staying home is a good way to protest.
"That is a good way to shoot ourselves in the foot," Riggs said.
Also during the meeting, Stephen Lewis, a democrat who claimed to have been prevented from speaking at a previous meeting, read from a prepared statement that questioned Riggs' affiliation with Richard Salzman and the Local Solutions PAC, which Lewis said was created by Salzman.
Salzman has recently been investigated by the Trinidad Police Department for providing letters to the editor to numerous publications under false names, which is misdemeanor in California.
Lewis also asked, but received no response from Riggs or other members, why there seemed to be a takeover of the Democratic Party by the Green Party agenda, which was anticorporate.
Write a letter to the editor in response to this article!
Humboldt County Leaders Endorse Measure T!
Democratic Party of Humboldt County
Green Party of Humboldt County
Central Labor Council of Humboldt and Del Norte Counties
American Federation of State, County and Municipal Employees (AFSCME) Local #1684
Building and Construction Trades of Humboldt and Del Norte Counties
Carpenters Union Local #751
Operating Engineers Union Local #3 AFL-CIO
Paul Gallegos, Humboldt County District Attorney
Peter LaVallee, Eureka Mayor
Chris Kerrigan, Eureka City Council
Dave Meserve, Arcata City Council
Harmony Groves, Arcata City Council
Paul Pitino, Arcata City Council
Bob Ornelas, Former Arcata Mayor
Connie Stewart, Former Arcata Mayor
Elizabeth Conner, Former Arcata City Council
Julie Fulkerson, Former Humboldt County Board of Supervisors
... and hundreds of other individuals and local businesses! Join us today!
View the full list of public endorsements!
Learn More!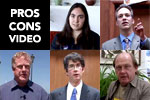 Learn more about Measure T in a Pros and Cons Video, produced by Eileen McGee (51 mins)
Radio Ads

Chris Kerrigan, Eureka City Counsel, and Kate Christensen, owner of The Garden Gate, support Measure T! (1 min)

Paul Gallegos, Humboldt County District Attorney, and Nezzie Wade, community member, support Measure T! (1 min)

Larry Glass, owner of The Works, and Dennis Rael, owner of Los Bagles, support Measure T! (1 min)