News Articles
Plan to Limit Contributions in Local Campaigns May Land on June Ballot: Local coalition seeks to squash outside corporate money donatations
Nathan Rushton, Eureka Reporter
October 28, 2005



An initiative that was born out of some residents' concerns over outside money that poured into the recall effort more than a year ago to oust Humboldt County District Attorney Paul Gallegos is likely to land on the ballot for next year's June election.
Kaitlin Sopoci-Belknap is a campaign manager for the Humboldt Coalition for Community Rights that formed to launch the ballot initiative, which is called the Humboldt County Ordinance to Protect Our Right to Fair Elections and Local Democracy.
The ordinance seeks to prohibit outside corporations from participating in Humboldt County elections, but wouldn't limit local corporations from entering the fray.
During the effort to recall Gallegos, $300,000 was contributed by Houston-based MAXXAM Inc., the parent company of Scotia-based Pacific Lumber Co., which was being investigated by Gallegos for alleged fraud.
Although the recall effort was defeated, Sopoci-Belknap said a tremendous amount of time, energy and money was wasted by community members to defeat the recall and residents will never know what the chilling effect might have been on other elected officials had it been successful, who would think twice before enforcing laws or questioning a business's practices.
Other reasons for the need to the limit outside corporate involvement include Arkansas-based Wal-Mart, which spent more than $200,000 in 1999 trying to change Eureka's zoning laws to create an exemption for them to move into the waterfront, which was done through ballot initiatives, Sopoci-Belknap said.
The outside forces that are targeting elections to sway voters through "tremendous amounts of money" are undermining the democratic process and deterring qualified people from running for office, she said.
"That is incredibly harmful to our democracy," Sopoci-Belknap said. "We have to have elected officials who, when they are in office, feel comfortable enforcing the law against anybody and everybody - even people with a lot of money."
To research what support there was in the community for such an initiative, a telephone survey was done in 2004 of the area's registered voters, which was conducted as part of a Humboldt State University student's master's thesis, Sopoci-Belknap said.
The survey determined that 64 percent of the respondents agreed with the statement that "a state or city should be able to ban non-local corporations from contributing financially to local elections."
Sopoci-Belknap said the survey results mirror the support the initiative has received in the community.
The coalition's unpaid volunteers, who have been circulating the petition since mid-September, have secured more than 2,800 of the 4,500 signatures needed to qualify the initiative for the ballot.
Although the coalition's first priority is garnering the necessary signatures to get the initiative on next year's ballot, many endorsements have already been secured, which include the mayor of Eureka, the Democratic Party of Humboldt County and the Central Labor Council of Humboldt and Del Norte Counties.
Eureka Mayor Peter La Vallee is among the several local politicians who have signed on as endorsers of the initiative, and has long believed that corporate personhood was not a legitimate concept.
"My interest in this initiative really is to ensure that local people have a voice in their own local government," La Vallee said.
The initiative doesn't prevent any local corporation from contributing money or any individuals or officers of a corporation from putting their own money into a political campaign, he said.
"One of the things I personally like about living in a small community like this is we are closer to our government and I want it to stay that way," La Vallee said.
Although some discussion has focused on the constitutionality of the ordinance, Sopoci-Belknap said the initiative was carefully drafted using specific language from the Supreme Court case First National Bank of Boston vs. Bellotti.
Although the Bellotti case encompassed many other issues, the justices ruled communities have the right to limit corporate involvement in elections as long as the reason to do so is because corporate involvement is corrupting the political process or undermining people's faith in the electoral process, she said.
Write a letter to the editor in response to this article!
Humboldt County Leaders Endorse Measure T!
Democratic Party of Humboldt County
Green Party of Humboldt County
Central Labor Council of Humboldt and Del Norte Counties
American Federation of State, County and Municipal Employees (AFSCME) Local #1684
Building and Construction Trades of Humboldt and Del Norte Counties
Carpenters Union Local #751
Operating Engineers Union Local #3 AFL-CIO
Paul Gallegos, Humboldt County District Attorney
Peter LaVallee, Eureka Mayor
Chris Kerrigan, Eureka City Council
Dave Meserve, Arcata City Council
Harmony Groves, Arcata City Council
Paul Pitino, Arcata City Council
Bob Ornelas, Former Arcata Mayor
Connie Stewart, Former Arcata Mayor
Elizabeth Conner, Former Arcata City Council
Julie Fulkerson, Former Humboldt County Board of Supervisors
... and hundreds of other individuals and local businesses! Join us today!
View the full list of public endorsements!
Learn More!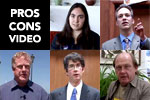 Learn more about Measure T in a Pros and Cons Video, produced by Eileen McGee (51 mins)
Radio Ads

Chris Kerrigan, Eureka City Counsel, and Kate Christensen, owner of The Garden Gate, support Measure T! (1 min)

Paul Gallegos, Humboldt County District Attorney, and Nezzie Wade, community member, support Measure T! (1 min)

Larry Glass, owner of The Works, and Dennis Rael, owner of Los Bagles, support Measure T! (1 min)