News Articles
Debate on Ballot Measure Could Go National
Daniel Mintz, The Independent
February 28, 2006

Legal scholars supporting Measure T, the ballot measure that seeks to ban political contributions by out-of-town corporations, say Humboldt County voters could be the ones that finally move markers on controversial election spending laws.

A flurry of debate on the measure's legality has followed a successful petitioning phase that put it on the June 6 election ballot. Titled the Humboldt County Ordinance to Protect Our Rights and Local Democracy, the proposed ordinance seeks to ban election spending by "non-local" corporations. It has been called discriminatory, unconstitutional and ill-advised by critics. But its backers say they wrote their proposal with a specific Supreme Court decision in mind, tailoring the ordinance to its language.
And in that context, Humboldt County is an ideal test case for challenging established election spending laws.
If what Measure T's backers say is correct, then Wal-Mart and the Maxxam-owned Pacific Lumber Company inadvertently provided fodder for that challenge by establishing a historical record of corporate political influence. In 1999, Wal-Mart funded a ballot initiative for a zoning change that would have allowed it to build a super-store on the Eureka bay. And in 2003, Pacific Lumber almost single-handedly funded an attempt to recall District Attorney Paul Gallegos, part of the aftermath of his filing of a fraud lawsuit against the company.
Both efforts flopped, and now they're being cited as proof that outside corporations are making the public nervous about the potential effects of corporate political spending. If voters approve Measure T, they'll also be approving the ordinance's findings on the "genuine threat" that such spending poses - and that is what Supreme Court judges have said they're looking for to trigger consideration of spending restrictions.
Question of Integrity
Measure T's legal hook is the language of a 1978 Supreme Court ruling on the First National Bank of Boston versus Bellotti case. The ruling struck down a Massachusetts statute that prohibited corporations from spending money on referendum campaigns unrelated to their business interests.
But the ruling quoted from previous decisions and declared that "preserving the integrity of the electoral process, preventing corruption, and 'sustain(ing) the active, alert responsibility of the individual citizen in a democracy for the wise conduct of government' are interests of the highest importance."
The ruling noted that arguments in favor of the Massachusetts prohibition "hinge upon the assumption that (corporate) participation would exert an undue influence on the outcome of a referendum vote, and - in the end - destroy the confidence of the people in the democratic process and the integrity of government."
The Supreme Court did not consider those arguments. But it would have - if there had been evidence showing that the arguments were "supported by record or legislative findings that corporate advocacy threatened imminently to undermine democratic processes, thereby denigrating rather than serving First Amendment interests."
Enter Measure T. Among other things, it asks voters to affirm legislative findings fashioned after the Bellotti ruling's language. If voters approve the measure, they will be supporting the non-local corporate spending ban along with the measure's findings that corporate involvement is "imminently undermining our Democratic processes" and "denigrating rather protecting First Amendment interests."
And in Humboldt County, residents who support the measure can point to specific episodes of arguably over-reaching corporate influence. The Wal-Mart and Pacific Lumber referendums were massively controversial, and probably sparked the most divisive elections in memory. They will be part of the trial record if Measure T is voted in and challenged, and some legal specialists say debate of that sort is precisely what an active citizenry should promote.
Challenging the Courts
The Measure T campaign issued a press release last week quoting the supportive opinions of three legal specialists. In interviews, they described the ordinance as a means of following up on the opportunity opened in the Bellotti case and venturing grass-roots reform.
The free speech rights of corporations are established in constitutional law, which has led some to dismiss Measure T's goals as delusional. The measure's claim that "no corporation shall be entitled to claim corporate constitutional rights or protections in an effort to overturn this law" has been aggressively questioned and probably won't hold any authority if a court case happens.
But Robert Benson, a law professor at Loyola University in Los Angeles, said the Bellotti ruling's language coupled with the political role of what he called "citizen activists" makes the measure viable - and potentially historic.
"When citizens feel that courts have lost touch with the fundamental values of democracy, they have the right to challenge the courts and force them to justify their decisions," said Benson. "The democratic process of having state and local governments - and grass roots activists - constantly challenge court decisions is not anything anyone should be afraid of."
Some are wary of Measure T, however. They say that it discriminates against one source of election funding - outside corporations -- and has looser standards of residency for other sources, such as unions.
John Bonifaz, founder of the National Voting Rights Institute and a secretary of state candidate in Massachusetts, is also the attorney arguing for a recount of 2004 presidential ballots in Ohio on behalf of David Cobb, one of Measure T's key campaigners. Bonifaz emphasized that the ordinance's supporters "have done a careful job presenting legislative findings in the context of the initiative" and have met the standards cited in the Bellotti ruling.
Why not just propose a measure that enacts an across-the-board campaign spending cap?
Bonifaz said that Humboldt's history shows that a particular category of election spending - that done by out-of-town corporations - has breached the standards of political integrity. "Humboldt County has directly experienced the intrusion of outside corporations and its residents have the right to respond with this measure," he continued. "The public perception of corruption is a very, very important question with respect to this regulation being upheld or not."
'Vigorous Fight' Looms
Professor Peter Gabel of the San Francisco-based New College of Law School also referred to the Bellotti decision, and said what's happened in Humboldt fits its language tightly.
"(Measure T) is aimed at a relatively small democratic unit, in which the citizens are likely to be overwhelmed by corporate contributions and even more, there have actually been overwhelming contributions - and they've been made in a way that the court specifically names in Bellotti," he continued.
Wal-Mart and Pacific Lumber each spent hundreds of thousands of dollars to forward their campaigns. "So here, we have a small community dealing with contributions that have been made, and the citizens are saying, 'We have the evidence the court requires," Gabel said. "Humboldt County is standing up and speaking for many, many Americans."
The strong success of Measure T's petitioning - over 7,600 signatures were collected - suggest it has a good chance of being approved by voters. A legal challenge would be inevitable, most observers believe, and would probably vault Humboldt into an arena of national debate.
"This is a path-breaking initiative and one that a lot of people around the country are going to watch," said Bonifaz. He added that although corporate political spending isn't unusual, "What's different in Humboldt is that there is a response happening and that is of concern to corporate interests - if it happens here, it could catch on, and that's why I think there will be a vigorous fight."
Measure T goes as far as it can to offset corporate influence, opting for an outright ban and potentially poising Humboldt at the edge of sweeping legal reform. "If (Measure T) is enacted, I think it will be overnight national news," said Benson.
Write a letter to the editor in response to this article!


Humboldt County Leaders Endorse Measure T!
Democratic Party of Humboldt County
Green Party of Humboldt County
Central Labor Council of Humboldt and Del Norte Counties
American Federation of State, County and Municipal Employees (AFSCME) Local #1684
Building and Construction Trades of Humboldt and Del Norte Counties
Carpenters Union Local #751
Operating Engineers Union Local #3 AFL-CIO
Paul Gallegos, Humboldt County District Attorney
Peter LaVallee, Eureka Mayor
Chris Kerrigan, Eureka City Council
Dave Meserve, Arcata City Council
Harmony Groves, Arcata City Council
Paul Pitino, Arcata City Council
Bob Ornelas, Former Arcata Mayor
Connie Stewart, Former Arcata Mayor
Elizabeth Conner, Former Arcata City Council
Julie Fulkerson, Former Humboldt County Board of Supervisors
... and hundreds of other individuals and local businesses! Join us today!
View the full list of public endorsements!
Learn More!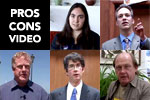 Learn more about Measure T in a Pros and Cons Video, produced by Eileen McGee (51 mins)
Radio Ads

Chris Kerrigan, Eureka City Counsel, and Kate Christensen, owner of The Garden Gate, support Measure T! (1 min)

Paul Gallegos, Humboldt County District Attorney, and Nezzie Wade, community member, support Measure T! (1 min)

Larry Glass, owner of The Works, and Dennis Rael, owner of Los Bagles, support Measure T! (1 min)