News Articles
Measure T Debate Heads South Over Campaign Interview
James Faulk, Times-Standard
April 21, 2006
EUREKA -- The debate over Measure T has again taken a sour turn.
The proposal, put out by the Humboldt Coalition for Community Rights, would ban contributions from non-local corporations to local races. The issue has spawned heated debate between supporters and opponents, like the newly formed "No on T" campaign.
The groups have had several heated exchanges already, and on Thursday the coalition sent out a press release complaining that Chris Crawford from the "No on T" campaign called Measure T a "piece of sh--" in a recent interview.
In that interview, Crawford also called for a limit of $500 for all campaign contributions -- what he has said would be true and effective campaign finance reform.
"I'm sure the hypocrisy of Crawford calling for us to all get along while insulting us in the next breath is not lost on anyone," said Kaitlin Sopoci-Belknap, campaign manager for Measure T. "NOT has been campaigning for just over a week and they've already demonstrated they intend to run a campaign based on name calling, lies and distortion. Let's have a civil debate on the issue before the voters."
Crawford admitted to the obscenity, but said it was an off-hand comment.
"The Measure T proponents have taken offense at my off-handed and colorful characterization of this ordinance language," he said. "I and the opponents of Measure T strongly believe that the ordinance is seriously flawed and fails to achieve campaign finance reform. My full quote contains an honest and straightforward offer to work in cooperation to develop real campaign finance reform, and that offer still stands."
He tried to turn the situation around by pointing out that HCCR said NOT's opposition is based on lies.
"This shows the level of rancor that occurs when we fail to come together to resolve issues of mutual concern such as campaign donation caps, instead of organizing a frontal attack on legitimate community stakeholders, as Measure T does," he said.
The Measure T campaign has a "forum" planned for April 25, with featured speaker John Bonifaz of the National Voting Rights Institute.
"John is an award-winning national expert on issues of campaign finance reform and a supporter of Measure T," said Sopoci-Belknap in the press release.
Crawford took issue with the word "forum" being used for a one-sided presentation.
"It is hardly a civil debate to host a so-called 'forum' with a panel consisting solely of out-of-town political operatives and proponents of Measure T," he said. "I have no problem with them doing so, but forum seems like the wrong word for it."
The forum -- or gathering -- will be held at the Labor Temple, 840 E St., in Eureka starting at 7 p.m. Other speakers include Sopoci-Belknap and District Attorney Paul Gallegos.
Write a letter to the editor in response to this article!
Humboldt County Leaders Endorse Measure T!
Democratic Party of Humboldt County
Green Party of Humboldt County
Central Labor Council of Humboldt and Del Norte Counties
American Federation of State, County and Municipal Employees (AFSCME) Local #1684
Building and Construction Trades of Humboldt and Del Norte Counties
Carpenters Union Local #751
Operating Engineers Union Local #3 AFL-CIO
Paul Gallegos, Humboldt County District Attorney
Peter LaVallee, Eureka Mayor
Chris Kerrigan, Eureka City Council
Dave Meserve, Arcata City Council
Harmony Groves, Arcata City Council
Paul Pitino, Arcata City Council
Bob Ornelas, Former Arcata Mayor
Connie Stewart, Former Arcata Mayor
Elizabeth Conner, Former Arcata City Council
Julie Fulkerson, Former Humboldt County Board of Supervisors
... and hundreds of other individuals and local businesses! Join us today!
View the full list of public endorsements!
Learn More!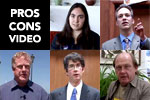 Learn more about Measure T in a Pros and Cons Video, produced by Eileen McGee (51 mins)
Radio Ads

Chris Kerrigan, Eureka City Counsel, and Kate Christensen, owner of The Garden Gate, support Measure T! (1 min)

Paul Gallegos, Humboldt County District Attorney, and Nezzie Wade, community member, support Measure T! (1 min)

Larry Glass, owner of The Works, and Dennis Rael, owner of Los Bagles, support Measure T! (1 min)