News Articles
Eureka Chamber Sides Against Measure T
Ann Johnson-Stromberg, Times-Standard
May 27, 2006
EUREKA -- The Eureka Chamber of Commerce announced Friday that its board of directors has overwhelmingly taken a stance against Measure T.
The measure, on the ballot June 6, would prohibit non-local corporate contributions in Humboldt County elections.
The chamber released member survey results earlier this week that support Friday's official stance. Executive Director J Warren Hockaday said that after such a strong member response, the board decided to take a formal position and release some of the member comments returned with the surveys.
The chamber board of directors is made up of 18 individuals; the president only votes in the event of a tie. Board members College of the Redwoods President Casey Crabill and No on Measure T Campaign Manager Chris Crawford abstained from the vote. The remaining 16 members voted at the board meeting against Measure T.
Around 600 surveys were sent to chamber members asking for feedback regarding Measure T. Out of 177 responses, only 12 supported the measure while 165 were opposed. Hockaday said this is the best survey response in recent memory.
In response to the position, Yes on T Campaign Manager Kaitlin Sopoci-Belknap pointed out that the survey represented less than a third of its members.
"The survey tells us that the majority of their members do not have a position on Measure T," she said in the press release. "This confirms what we have been saying all along. ... (T)he vast majority of local businesses do not participate in politics."
A few of the questions on the survey were: Should the Eureka chamber take a formal position on Measure T? If so, do you believe that it is in the best interest of the members to support or oppose this measure?
"We have been a business in Humboldt County since 1945, yet we would be restricted from providing funds to local elections. 'T' is fuzzy thinking claptrap," wrote one anonymous member.
"It worries me that Arcata-style politics is trying to force itself upon all of Humboldt County," another member wrote.
Hockaday said that Measure T proponents contend that this would be primarily limiting giant corporations, but said mom and pop businesses can also be affected.
Eureka Certified Public Accountant Steve Fini said that businesses with one or two employees can and do incorporate -- usually for liability reasons or tax incentives. In most cases incorporation creates a corporate veil that separates the business from the individual, which can protect individual assets in the event of a lawsuit.
Chuck Childers has the Eureka All State Insurance business, and said he is outraged that he would not be able to donate to local issues or political candidates should Measure T pass. His insurance business is a corporation with three employees, which he jokingly refers to as a "very large multi-thousand-dollar company." His board of directors consists primarily of his children who do not reside in Humboldt County, not an unusual concept for small family corporations.
"I became incorporated solely for the tax benefits because I would rather hire people and use my money for those things rather than give it to Uncle Sam," Childers said, adding that this election he donated around $100 to three different campaigns -- including No on Measure T.
"I urge everyone to read the entire measure, don't just listen to the sound bytes in the paper or on television," he said. "Read the measure because it is not about campaign reform."
Hockaday said the chamber represents big and small businesses alike but they aren't the "money grubbing, self-serving behemoths" the Measure T proponents are portraying.
"We represent our members," he said. "That can be one person with tech concerns working out of their garage to the largest employers in the community."
Write a letter to the editor in response to this article!
Humboldt County Leaders Endorse Measure T!
Democratic Party of Humboldt County
Green Party of Humboldt County
Central Labor Council of Humboldt and Del Norte Counties
American Federation of State, County and Municipal Employees (AFSCME) Local #1684
Building and Construction Trades of Humboldt and Del Norte Counties
Carpenters Union Local #751
Operating Engineers Union Local #3 AFL-CIO
Paul Gallegos, Humboldt County District Attorney
Peter LaVallee, Eureka Mayor
Chris Kerrigan, Eureka City Council
Dave Meserve, Arcata City Council
Harmony Groves, Arcata City Council
Paul Pitino, Arcata City Council
Bob Ornelas, Former Arcata Mayor
Connie Stewart, Former Arcata Mayor
Elizabeth Conner, Former Arcata City Council
Julie Fulkerson, Former Humboldt County Board of Supervisors
... and hundreds of other individuals and local businesses! Join us today!
View the full list of public endorsements!
Learn More!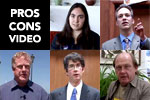 Learn more about Measure T in a Pros and Cons Video, produced by Eileen McGee (51 mins)
Radio Ads

Chris Kerrigan, Eureka City Counsel, and Kate Christensen, owner of The Garden Gate, support Measure T! (1 min)

Paul Gallegos, Humboldt County District Attorney, and Nezzie Wade, community member, support Measure T! (1 min)

Larry Glass, owner of The Works, and Dennis Rael, owner of Los Bagles, support Measure T! (1 min)