News Articles
Measure T Protects Our Rights
Jon Zaglin, MY WORD for the Times-Standard
September 8, 2008

When corporations outspend citizens in the political arena by 2 to 1 or more, they win 9 out of 10 times. These are statistical facts. Following Wal-Mart's $250,000 push to change zoning laws in Eureka and Maxxam's $300,000 recall effort to remove a newly elected district attorney from office, it became painfully clear that democracy cannot function with corporate contributions corrupting our local decisions.
When corporations have the "right" to make political donations, real people's rights to free speech and equal protection are weakened. Voters enacted Measure T based on the legitimate concern that corporate influence in elections undermines the integrity of the process. With Measure T in place for the past two years, a level playing field has been established and individuals' rightful political liberties have been reinstated. But now both Humboldt County and this ordinance voters passed by the democratic process are under attack.
Disregarding the community's well-being, the Pacific Legal Foundation or PLF, a corporate-supported legal think tank, is suing the citizens of Humboldt County for protecting our right to fair elections and local democracy.
Seeking to overturn Measure T, PLF aims to return Humboldt to the time when corporations could bully us legally with their limitless funds. This goal is especially upsetting given that the issue in question is the public's confidence in the electoral process, a vital necessity for democracy to function.
The owners of O and M Industries and Mercer-Fraser Co. have allowed PLF to go forward with this lawsuit against Humboldt citizens and Measure T. These corporate owners may not realize that they can still make financial contributions in elections under Measure T. As individual citizens, the owners, managers, and employees of any corporation can still make political contributions. Measure T prevents out-of-county corporate donations. Corporations and their think tanks should not be used to overpower the views of Humboldt citizens.
In 1973, the Sacramento Bee featured the PLF in its cover story "Big Corporations Create Public Interest Group." Among other issues, the PLF has opposed civil rights policies and community health and environmental protections. Funded by a host of multi-national corporations including ExxonMobil and Phillip Morris, the PLF has set its sights on making an example of our community.
The PLF seeks to punish the residents of Humboldt County for daring to act as sovereign citizens and for fulfilling our birthright as Americans. They are suing our citizenry for taking the necessary steps to restore trust in local political processes.
Quoting Ronald Reagan, PLF's promotional video concludes, "We the people tell the government what it is allowed to do ... We the people are free." The contrast between Reagan's words and PLF's challenge to our democratic decisions demonstrates a perverse irony. As a citizen initiative -- drafted and run by local unpaid volunteers -- Measure T passed by 55 percent of the vote after a spirited and vigorous public debate. It is hard to achieve a more democratic process when considering and enacting a law.
If we the people are truly free, then our citizen's initiative is a shining example of we the people telling the government and corporations what they can and cannot do within our community. According to the constitutional framework, the people are the source of all legitimate political power. Both the government and corporations are supposed to be subordinate to the will of we the people.
But when national foundations like the PLF ask the federal courts to offer corporations more power and rights than we the people -- when corporations are then able to subordinate the citizenry -- the constitutional framework crumbles and democracy does not exist. When that happens, we the people are no longer free.
Let's be clear -- this is about more than one local law. This is about our right to self-governance. If you want to protect democracy in Humboldt County, please get in touch with us at Democracy Unlimited of Humboldt County. Visit us online at www.duhc.org or call us at 707-269-0984.
Jon Zaglin resides in Eureka.
The opinions expressed in My Word pieces do not necessarily reflect the editorial viewpoint of the Times-Standard.
Write a letter to the editor in response to this article!
Humboldt County Leaders Endorse Measure T!
Democratic Party of Humboldt County
Green Party of Humboldt County
Central Labor Council of Humboldt and Del Norte Counties
American Federation of State, County and Municipal Employees (AFSCME) Local #1684
Building and Construction Trades of Humboldt and Del Norte Counties
Carpenters Union Local #751
Operating Engineers Union Local #3 AFL-CIO
Paul Gallegos, Humboldt County District Attorney
Peter LaVallee, Eureka Mayor
Chris Kerrigan, Eureka City Council
Dave Meserve, Arcata City Council
Harmony Groves, Arcata City Council
Paul Pitino, Arcata City Council
Bob Ornelas, Former Arcata Mayor
Connie Stewart, Former Arcata Mayor
Elizabeth Conner, Former Arcata City Council
Julie Fulkerson, Former Humboldt County Board of Supervisors
... and hundreds of other individuals and local businesses! Join us today!
View the full list of public endorsements!
Learn More!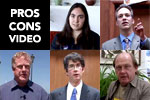 Learn more about Measure T in a Pros and Cons Video, produced by Eileen McGee (51 mins)
Radio Ads

Chris Kerrigan, Eureka City Counsel, and Kate Christensen, owner of The Garden Gate, support Measure T! (1 min)

Paul Gallegos, Humboldt County District Attorney, and Nezzie Wade, community member, support Measure T! (1 min)

Larry Glass, owner of The Works, and Dennis Rael, owner of Los Bagles, support Measure T! (1 min)